ROMA 39 MANSARDA APARTMETN – BORMIO
ROMA 39 MANSARDA APARTMENT - BORMIO
Via Roma 39, 23032 Bormio One-bedroom apartment on two floors with double bathroom in the historic centre
Cozy one-bedroom attic in the centre of Bormio
Roma 39 Mansarda apartment in Bormio is a one-bedroom attic for rent in the historic centre. This apartment is recommended for those who wish to have everything at hand, to feel the beating heart of Bormio, in a contemporary and welcoming apartment. Furnished with style and clean lines, the Roma 39 Mansarda apartment is a sizeable one-bedroom apartment on two floors, much appreciated by couples. Looking on the centrally located pedestrian street, has all the main sights, the renowned Piazza del Kuerc, Bormio Terme Spa resort, and the ski lifts within a few minutes' walk. While staying here, you will enjoy the beauty of the "Magnifica Terra" to its fullest, both day and night. When the sun sets, besides tasty "aperitivi" and sampling the local cuisine, you will also discover enchanting historic glimpses. The unique features of Roma 39 Mansarda apartment are a stunning skylight in the master bedroom and the taste of history that oozes from the walls of this entirely renovated property! Roma 39 Mansarda apartment is available for short term rentals and it is managed by Bormio Stay: Monica. Veronica and the whole team are happy to welcome you and let you discover the infinite activities of Bormio. (CIR: 014009-CIM-00048)
Details of the Apartment Roma 39 Mansarda
One-bedroom apartment on two floors in the historic centre of Bormio
Guests: up to 4

Area: 59 sqm

Bedroom: 1

Beds: 1 double; 1 double sofa bed

Bathrooms: 2

Garage - subject to availability
One-bedroom apartment on two floors with double bathroom
Roma 39 Mansarda apartment is an entirely renovated one-bedroom attic on two levels, on the second floor of a historic building in via Roma. It has a private garage, just 40 meters from the entrance door. The apartment comprises a living area, with a sofa bed and a bathroom, on the entrance floor; while upstairs, in the attic, there is a double bedroom with a walk-in closet and a bathroom. In Roma 39 Mansarda apartment you will find a dishwasher, oven, microwave, TV, Wi-Fi network, and washing machine, for a holiday with all the comforts. Pets are allowed only on request, contact us.
The services of Roma 39 Mansarda apartment in Bormio
A sizeable one-bedroom apartment on two floors with all the comforts
Traditional Oven and Microwave
Pets allowed ONLY on request
"Apartment on two floors in the pedestrian street of Bormio, a very central position. Welcoming, well-kept, and clean; a modern kitchen equipped with everything you need. The wooden décor and finishes make the apartment suggestive. Helpful and caring staff, ready to accept our requests and communicate with cordiality. Highly recommended."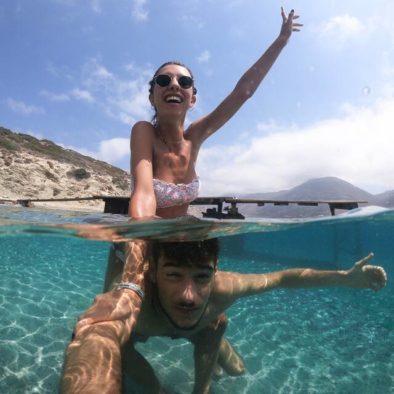 Andrea
Airbnb - December 2019